ABOUT STOP Privatization
Background

STOP Privatization Unity Statement
Launching of Solidarity To Oppose Privatization
NHA Operations Center, May 25, 2000




THE plague of privatization is taking a more concrete shape and at a faster phase as one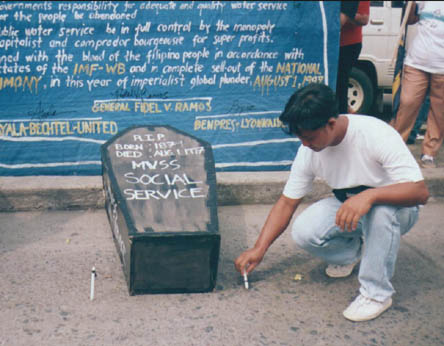 among the three basic policies of globalization that include liberalization and deregulation.
The onslaught of imperialist globalization has shaken the peoples of the world, especially the poor in underdeveloped countries, into common and independent protest actions.

The incompatibility of patrimony and privatization is underscored by the failed attempt of the Estrada administration for charter change. In the meantime, various laws and schemes are being readily crafted by Malacañang and the Philippine Congress to sell our patrimony, public assets and services to foreign monopoly firms and local big corporations. These are desperate acts of a cash-strapped government due to its own servitude to foreign interests through the International Monetary Fund-World Bank (IMF-WB), Asian Development bank (ADB) and the world trade Organization (WTO); big time corruption in the government; and the Estrada style of cronyism.
Ironically, while the government is justifying privatization to raise needed revenues and as an austerity measure, the national coffers is actually subsidizing the expansion and higher profit of multinational corporations (MNCs) and their local cohorts. This is aggravating the lop-sided allocation of public funds disfavoring social services and welfare of state workers.
On top of the Estrada administration's priority is the completion of privatization that involves the remaining public utilities, food, housing, health and education services, roads, transportation, postal service, revenue collection, and other public services and assets. These contracts are meant to favor foreign and local giant corporations especially those who financed his candidacy. Estrada has surpassed the corruption and anomalous record of his predecessors. Thus the "payola scam" that marked the passage of House Bill (HB) # 8457 or the Omnibus Power Bill is definitely a trail of bribery that points to Malacañang.
After two decades of privatization, the people are now reaping not any of its promises but its disastrous effects. The state has become more bereft of its responsibility as already scarce and bad public and social services have worsened and became more expensive in the hands of greedy foreign and local monopolies. Such added burden fans the flames of restlessness of the majority of the Filipino people.
While tens of millions of workers worldwide are being victimized due to privatization, tens of thousands of government employees in our country are joining the swelling ranks of unemployed. Privatization continues to facilitate the global flexible labor policy contractualization and mass lay-off. This is compelling the government employees everywhere to unite, organize and collectively act. But privatization is indeed not only the government workers' concern.
It is obviously clear that privatization is anti-people and anti-worker. Our basic stand and position on this issue can be summarized in a general call of "NO TO PRIVATIZATION!".
It is in this framework that the organizations of various sectors unite and join forces in an alliance—STOP PRIVATIZATION or Solidarity To Oppose Privatization—to intensify the people's campaign against privatization. more